Located in the heart of the Sugarhouse section of Salt Lake City, Fiddler's Elbow is an American Roadhouse and Sports Bar with an incredible menu. Offering up great lunch options, appetizers, dinner, national and local micro-brewed beers, cocktails and seasonal specials from the shared kitchen of their Italian restaurant which it is partnered with.

Fiddler's is where you can enjoy a huge selection of beers with 32 of them on tap while catching your favorite sporting event on Direct TV and Setanta Sports!



Daily Specials / No Coupons Needed



Mondays: Beer is Discounted All Day & Night



Tuesdays: 1 Topping Pizza's are Reduced to $6.95



Wednesdays: Half Price Appetizers between 3pm and 6pm. Dine In Only.



Sundays: Award Winning Prime Rib Buffet Brunch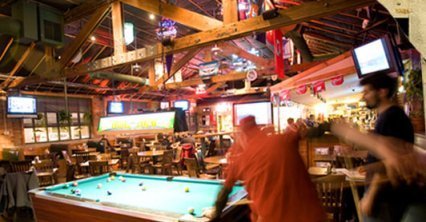 Hours:


Monday - Thursday 11am to 11pm


Friday 11am to Midnight


Saturday 9am to Midnight


Sunday 9am to 10pm

Address: 1063 1/2 East 2100 South

Phone: 801.463.9393 - Official Website

Must Be at Least 21 to be Allowed in a Utah Bar, and Have Picture ID.